澳大利亞阿德萊德睡眠健康研究中心:非藥物治療失眠的方法
Insomnia is the most common sleeping difficulty and affects people of all ages. Features include difficulty getting off to sleep and trouble staying asleep, worrying about sleep, and tiredness during the day.

There are many different reasons for insomnia. A pattern of poor sleep may start during a period of stress or other sleep disruption (e.g. from shift work, jet lag, crying infant, snoring bed partner). It can then become chronic even after the initial cause is no longer present. The poor sleep pattern is maintained by a conditioning (habit forming) process that produces alertness while trying to fall asleep or back to sleep.

Other possible contributors to a poor sleep pattern include:
Excessive consumption of caffeine or alcohol in the evening
Excessive time spent in bed
A mistimed body clock (e.g. regularly falling asleep and awakening either too late or too early)
Inappropriate ideas or beliefs about the nature of sleep and consequences of sleep loss

It is important to diagnose the specific pattern and causes of the insomnia in order to prescribe the most appropriate treatment. The AISH Insomnia Treatment Program does not prescribe sleeping pills because they can lead to drug dependence and daytime impairment. Although they may provide symptomatic relief for short-term insomnia, these medications do not treat the causes of insomnia. Non-drug therapies can treat the causes of insomnia and provide more effective long term treatment of chronic insomnia.

These non-drug therapies include:
Promoting daytime behaviours conducive to better sleep
Stimulus control therapy
Bed period restriction therapy
Bright light therapy
Relaxation therapy
Cognitive therapy
The Insomnia Treatment team, led by Professor Leon Lack and colleagues, has pioneered the scientific research and technological developments for some of these therapies. This treatment program is unique in making available some practical treatments emerging from this scientific research. In addition, Professor Lack has more than 20 years experience with the non-drug treatments of insomnia.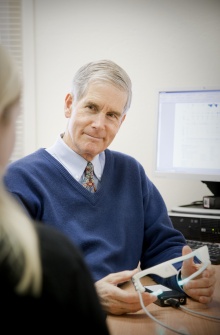 The treatment program consists of:
A diagnostic home night time sleep study to evaluate the biological sleep pattern
A diagnostic consultation (50-60 minutes)
A group education session (8-10 per group) of two hours.
A personalised treatment commencement session (30 minutes)
A one week follow-up consultation (30 minutes)
Three weekly telephone / email contacts (5-10 minutes each)
A five week follow-up consultation (30 minutes)
A three month follow-up consultation (30 minutes)
The program fee is $575 (concessions apply; private medical insurance rebates may apply
Appointments will be made upon booking the program. Medicare rebates apply upon referral with a Mental Health Care Plan from a GP. A single Medicare gap of $49.35 applies.

More---http://www.adelaidesleephealth.org.au/facilities_and_services/insomnia_clinic